NuTech coatings

Our unique coating is applied directly on to your existing cylinder. The key advantage of a PEC is to provide a platform for a plate that will allow for impression, and absorb vibration, that is created in the nip. This feature eliminates a huge variable of the flexo process. In addition to impression latitude, PEC's also offer the following:
Mount plates directly to the cylinder with .005 transfer tape, resulting in an instant savings on expensive cushion tape.
Greatly reduces or in most cases removes banding or gear marking
Eliminates flexo "doughnut" dots, which significantly increases tonal range
Increased press speeds and decrease make ready time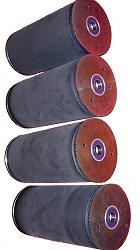 PEC's are designed and manufactured to exacting specifications, which meet your requirements for tight tolerance within a cylinder, as well as cylinder to cylinder. This will assure precise registration, and print quality that exceeds your customer's expectations.
Compatibility with all flexo solvents and inks
Designed to resist damage from cutting
Spin balanced for equilibrium
One year limited warranty