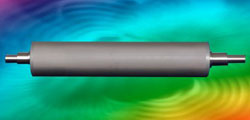 CTS Industries specializes in laser engraved ceramic anilox roller and mechanically engraved chrome anilox roll manufacturing for wide and narrow web flexographic printing. Our family-owned business has provided 28 years of unfailing service as the ONLY exclusive engraver and manufacturer of anilox rollers for the narrow web industry in North America.
Our Services / Products:
Laser Engraved Ceramic Anilox Rollers available in:

Admiral™ Series
Pro-Lite™
Pro-Lite H-D™
Warrior™ Series

Ultaflow™ Engraving
P.A.R.T.© Volume Analysis
NEW LIFE™ Inspection-Cleaning Technology
We manufacture our own inventory for:

Mark Andy
Comco
Aquaflex
Webtron
Arsoma
In Stock at OEM Specs
Plus many other brands
Flexographic printing is ideal for packaged materials like: bags, cartons, candy wrappers, labels, tape, pharmaceutical, etc., and our anilox rollers are so concise (by reducing variables), our narrow web printers perform with a minimal number of roll screen counts.
Why an anilox roller from CTS?
Our PRO-LITE™ series has been tested for over ten years and has built up a reputation as the most durable, high grade, lightweight anilox roller in the entire narrow web industry.
A single operator can handle the Pro-Lite™ roller.
Your roller will be customized to meet your specifications and can be duplicated time and time again.
We can clean your old, worn rollers. Ask about NEW LIFE™.
Ask about our P.A.R.T. volume testing and evaluations.